Friends & Family Signs
If you purchase a Friends and Family sign, your sign will be displayed Briarwood events such as the Bulldog Jog, Grandparent's Day, Science Night, Open House, and the Carnival.
Friends and Family Sign order form
Example Signs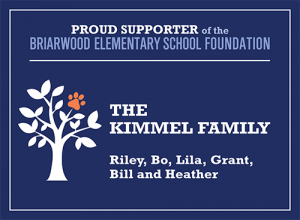 Pay by check
Send a check payable to Shawnee Mission Education Fund (SMEF). In the memo, please note that it is for the Briarwood Foundation.
Please mail to the following address:


Briarwood Elementary
Attn: Aimee Mayhew
5300 W 86th Street
Prairie Village, KS 66207
Pay by credit card
In order to make a donation via credit card, please contact Terri Izard, our SMEF contact, at 913.993.9362 or terriizaed@smsd.org.  Once you have completed your sponsorship payment, please contact Aimee Mayhew at 913.485.0429 or aimeemayhew@gmail.com.
NOTE: Some Kansas City companies match their employee's contributions. Please check with your human resources office for more information. Click here for a list of companies that match contributions.
Who do I contact if I would like to buy a Sponsorship?
Please contact Aimee Mayhew @ aimeemayhew@gmail.com or 913.485.0429. We will need to get the artwork you would like to use for your sponsorship and make sure we get your information as quickly as possible.
See the Sponsorship form & sponsorship levels
Is my donation Tax Deductible?
YES!!!
The Briarwood Foundation is an affiliated fund of the Shawnee Mission Education Foundation, a 501(c)(3) tax-exempt organization, Tax ID #74-2823938. The Briarwood Foundation benefits education programs and projects at Briarwood Elementary School in the Shawnee Mission School District. Contributions may be tax-deductible as allowed by law. Consult your tax advisor for further information.
Will I receive a receipt for my taxes?
Yes. Once your donation is received and processed, you should receive a letter within a few weeks.